Carriacou, pronounced "carry a coo" is a green, natural destination.  It is the largest of the group of islands known as the Grenadines, which lie scattered between St. Vincent and Grenada and is part of the independent tri-island nation of Grenada, Carriacou and Petite Martinique.  The island is located twenty three miles northeast of Grenada and has a population of approximately 6,000 people.  Tyrell Bay is the port of entry.
Carriacou was settled by the French, but in 1763 was ceded with Grenada to the British. The majority of the inhabitants today are of African descent, with the influence on the island mainly British, such as driving on the left, though French names are still noticed, especially in the village of L'Esterre.  The village of Windward was home to a group of Scottish boat builders who settled here in the 19th century.
The Scottish names and boat building skills have been passed down through the generations. Many locally built boats from small fishing sloops to large trading schooners are seen in the Carriacou waters. Boat building is still carried out in the traditional way.
There are five annual festivals on the island.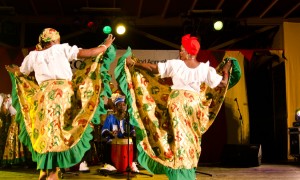 Carnival is a pre-Lenten celebration starting the weekend before Ash Wednesday. A lively calypso competition, Demarche Gras, a lively calypso competition, lasts until the wee hours of Jouvert Morning, where everyone spills out onto the streets to dance and celebrate. On Monday, the Parade of the Bands features Mas Players sporting colorful costumes with imaginative themes, accompanied by rhythmic soca music.  The Shakespeare Mas is an event that is unique to Carriacou and is a must see on Tuesday morning. The Mas men wear colorful harlequin costumes, recites lines from Shakespeare stories and begin in the village of Mt. Pleasant. 
Maroon & String Band Music Festival: held the last weekend in April, was conceived out of a need to provide a platform for showcasing Carriacouan customs and traditions and also to promote string band musicians and other musical expressions.
Maroon culture is about thanksgiving and offering prayers to the source of all life, production and prosperity.  Its African origins are authentically depicted through the drumming, singing, eating of 'smoke food' and other rituals practiced by the local people.  This aspect of the festival is a celebration of the rich cultural traditions, and the important values of sharing, unity and community self-help.
String band music is very popular on Carriacou and has historically been a main source of entertainment at social functions.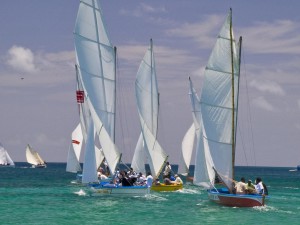 Regatta Festival: This fun filled three-day festival usually occurs the first weekend in August. The Carriacou Regatta celebrated its 50th anniversary in 2015 reflecting the importance and devotion of our people to seamanship and boat building.  Started in 1965 as a local work boat race, the Carriacou Regatta has evolved into a major Caribbean event, now augmented by shore side activities such as donkey-racing, walking the greasy-pole, bicycle-race, drinking competitions, beauty pageants and evening-entertainment of all sorts.
Windward Cup Regatta: Held in the boat building village of Windward in mid-August, this event was started in 2001. It features locally built Stern boats, Double Enders, Model boats, large and small deck sloops.  There is also a junior class featuring Lasers and Optimists to encourage the future generation of sailors.
Parang: Is a song festival, which comes to life the weekend prior to Christmas. Based on local gossip, songs are dressed in each string band's unique style and competition during this three day festival; it is usually brisk and raucous. Bands vie for first place, with cleverly composed ditties highlighting the antics of local characters.